Return → "Flightplan: Nome to Kotzebue"
Everybody's talking about the Alaska plane crash
© 2010 Clarity Digital Group LLC d/b/a Examiner.com.
Ever since the Dehavilland Otter seaplane crash a week ago that killed former U.S. Sen. Ted Stevens, phones have been buzzing throughout the close-knit community of seaplane pilots, Alaskan fishing guides and regular visitors to Alaskan fishing camps.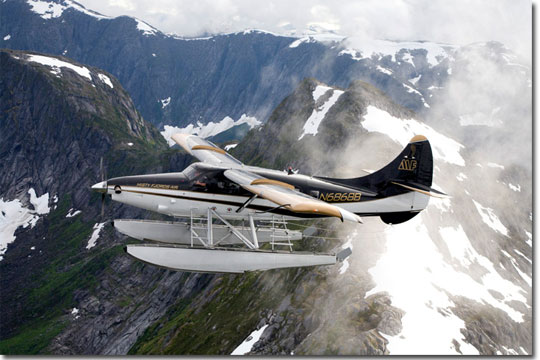 DHC-3T DeHavilland Turbine Otter in Alaska (Click image for source.)
As a former fish camp manager who worked at the kind of lodge that attracted the powerful and well-to-do such as Stevens and his friend, former NASA chief Sean O'Keefe, I have received dozens of late night calls from folks at every level of the Alaskan fishing tourism industry. And everyone voices some of the same theories about what caused the crash.
Many insiders say that the pilot, Terry Smith, was a newbie in this particular seaplane's cockpit. Although Smith had been Alaska Airlines' chief pilot, seaplane captains say floatplanes are a world apart from jets.
Also, according to industry gossip, a pilot with extensive knowledge of western Alaska's wilderness terrain and erratic climate was fired because he wouldn't acquiesce to passengers' demands. If the weather was bad, that pilot didn't fly. That didn't sit well with many who were used to getting what they want.
The pilot was replaced with Smith, who didn't have the kind of familiarity of the previous pilot who'd spent years negotiating western Alaska's mountainous region in fast-changing weather conditions. And insiders speculate Smith may have given in to the demands of fishing tourists eager to get to their fishing hole.
Fifteen minutes into the flight the seaplane plowed into a cloud-shrouded hill, killing Smith, Stevens and three others. Four other passengers were injured, including O'Keefe and his son.
"I heard that the pilot before Smith had years of experience flying in the Alaska bush and was fired because he didn't fit the corporate image. The company was looking for someone who could fly their plane and hold their own in conversations with guests," Boca Grande Seaplane pilot Mark Futch said from Florida. "As a pilot, the decision to go or not go weighs on you because you don't get paid if you don't go. You get someone pressuring you to fly when you know it's not safe and it can be a very bad deal. I've told a lot of rich and powerful people no. In the seaplane business, I'm the world champion at saying no."
Futch is the brother of the writer of this article.
Every Alaskan fishing guide, seaplane captain and enthusiast seems to have a theory about what caused the fatal crash a week ago that killed five and seriously injured four others.
Mark Futch has logged more than 17,000 hours in seaplanes and has flown in nearly every state, including Alaska and Montana, where mountains and weather can be a deadly mix. He wonders if the late pilot, Terry Smith, who spent most of his career flying jets, had the seaplane training and experience required.
"You don't just get out of a jet and into a seaplane," Futch said. "They're two different animals. It would be like getting off a John Deere tractor and climbing onto a horse."
The rugged western Alaska locale of marshes and mountains, lakes and rivers also is known for some of the worst storms in a state infamous for weather capable of changing from clear to nasty in a heartbeat.
Ira Davis flew a fish-spotting plane for 30 years in Alaska's western reaches, hunting herring for large factory vessels in Bristol Bay just south of the crash site.
"When you fly in this area of Alaska, you need to have extensive knowledge of the landscape," Davis said. "It's called marrying the topography so that in bad weather it only takes a glimpse of a landmark to know your position."
Davis said the best thing to do when flying in bad weather is to follow waterways such as rivers and lakes.
"Before you take off you have an up-weather route or one with good visibility and a good ceiling that allows for a straight flight," Davis said. "You also have a down-weather route" that avoids mountains.
But Jerry Edgerton, a board member of the company that owns the plane and the fishing camp it was headed to, doesn't agree with industry insiders who say Stevens was demanding and Smith was unfamiliar with the plane he was flying.
"I knew Terry Smith personally and he was an excellent pilot," Edgerton said. "Ted Stevens was a stand-up person."
Speaking to the pressure Smith may have felt to get Stevens to his fishing hole, Edgerton said, "That's purely speculation. You had to be there."
Every Alaskan fishing guide, seaplane captain and enthusiast seems to have a theory about what caused the fatal seaplane crash a week ago that killed five and seriously injured four others.
And many insiders say they can't discount the effect of former U.S. Sen. Ted Stevens' feisty temperament.
"Nobody could say Ted Stevens was diplomatic," said Alaskan bush pilot Ira Davis said. "He was an in-your-face kind of guy…I heard they let the experienced pilot go because when you have high-paying customers willing to pay $5,000 to $7,000 for five days of fishing, pilot personality becomes more important than skills."
The biggest drawback to flying in western Alaska is weather. In the hill area where Terry Smith was flying the ill-fated Dehavilland Otter seaplane, the problem is fog, Davis said. When bad weather closes in, a pilot has to find an alternative route. Most western Alaska pilots fly along the coast because there is no high terrain in their flight path.
FormerState Sen. Rick Halford lives near the crash site and told the Anchorage Daily News he was flying the same day near the scene of the accident. Halford said he encountered rain, wind and poor visibility and flew at 100 feet because the mountains around him were socked in with clouds.
A National Transportation Safety Board administrator who requested anonymity said the pilot made a mistake trying to take a direct path over mountains in bad weather.
The administrator said, "You just don't fly in bad weather. If it's bad, you can't scud run, which is flying under the clouds. This is a classic accident of a pilot flying in hilly terrain with bad visibility. It's like driving on the California Interstate. When it's sunny, it's no problem. When the fog rolls in, you can't see and accidents happen."
Fishing guide Nat Italiano praised Terry Smith as a top-shelf pilot who owned two seaplanes, an Albatross and a Goose. On the day of the crash, Smith was piloting an Otter.
"I've flown all over Alaska with (Smith) in good and bad weather," Italiano said. "He seemed to know his way and the area. We never left late in the afternoon. I like to think Terry saved four people's lives. He was the most qualified and thorough pilot I've ever flown with."